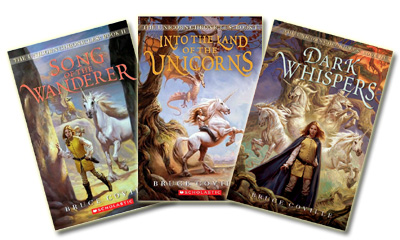 The Unicorn ChroniclesEdit
The Unicorn Chronicles is a series of books by Bruce Coville. It consists of four books: Into the Land of the Unicorns, Song of the Wanderer, Dark Whispers, and The Last Hunt.
After entering the land of Luster, a young girl named Cara Hunter embarks on a journey to tell the Unicorn Queen that "the Wanderer is weary." Her quest shifts to defeating the sworn enemy of the Unicorns, her own ancient ancestor Beloved, who has been kept alive by a tip of a unicorn horn lodged in her heart. On her journey, she meets unicorns (obviously), dragons, and even a mysterious species of animals called delvers.
Featured Article
Edit
The Last Hunt is the fourth and final book of The Unicorn Chronicles. In this exciting conclusion to the series, the final Hunt for the Unicorns has begun. It comes down to Beloved and her Hunters versus Cara and the Unicorns. The story leaves off where the last book, "Dark Whispers" left off. The Hunters have just entered Luster through the mystical Axis Mundi, the heart of the world, determined to destroy the last of the Unicorns. Meanwhile, Ian Hunter is in search of his wife Martha, in the Rainbow Prison, though troubled with the sudden spasm of blindness. Cara finds herself in the midst of the battle and finding her role and true idenity.
Latest activity
Edit